The Worlds Most Amazing Office Blocks
When many people think about office buildings, they think of boring structures to be endured rather than enjoyed. Yet across the world there are numerous teams of creative geniuses smashing that stereotype with innovative designs and beautiful buildings.
We've scoured the globe to highlight some fantastic office buildings that we would all love to be working in. Although each of these structures look very different, they share a common thread of innovation and precision. And each adds a sense of art to the cityscape they are situated in.
We hope you join us in saluting the skill and creativity of the architects, designers, and builders who created these wonderful offices.
72 Screens Jaipur
This striking building is cocooned in folded planes of perforated screens. They are inspired by the traditional 'jail' screens that are part of the regions architectural heritage. These screens, along with other innovations help the building cope in a desert climate where average temperatures range from 30C to 50c throughout the year

New Port House – Netherlands
The New Port House is a striking reinvigoration to what was once a derelict fire station. The building which has been compared to both a diamond and a ship, houses the port's 500 staff. The glass workspace above the fire station, made with over 2000 glass panels, is held in place with concrete pillars and 900 tones of steel
Architects: Zaha Hadid
 
Dear Ginza – Tokyo
Designed by: Amano Design Office
Designed to attract people to the street and to incorporate a 'slight feeling of abnormality,' the Dear Ginsa building certainly fulfils its brief. A computer determined the irregular façade to avoid unnatural forms that aren't found in nature. The flower graphic is used to provide balance and prevent the look of the building being too edgy.
 
The capital – Mumbai

The building was designed to marry form and function perfectly. Creating a building that looks great, is suited to it's purpose and is extremely environmentally friendly. The egg at its centre is both a symbol of progress and a great viewing platform. The building 'skin', which has integrated intelligent environmental technologies, optimizes the overall energy efficiency by approximately 80%

 
New Lab – Brooklyn
Designed by: Marvel Architects
This is a unique ultimate in millennial- friendly creative industry office space. The architects have transformed an old Navy Yard into a shared office space, used by entrepreneurs and Start-Ups. As you would expect, the facilities include shared workspace and chill-out areas.
Architects: Marvel Architects


Phoenix Media center – Beijing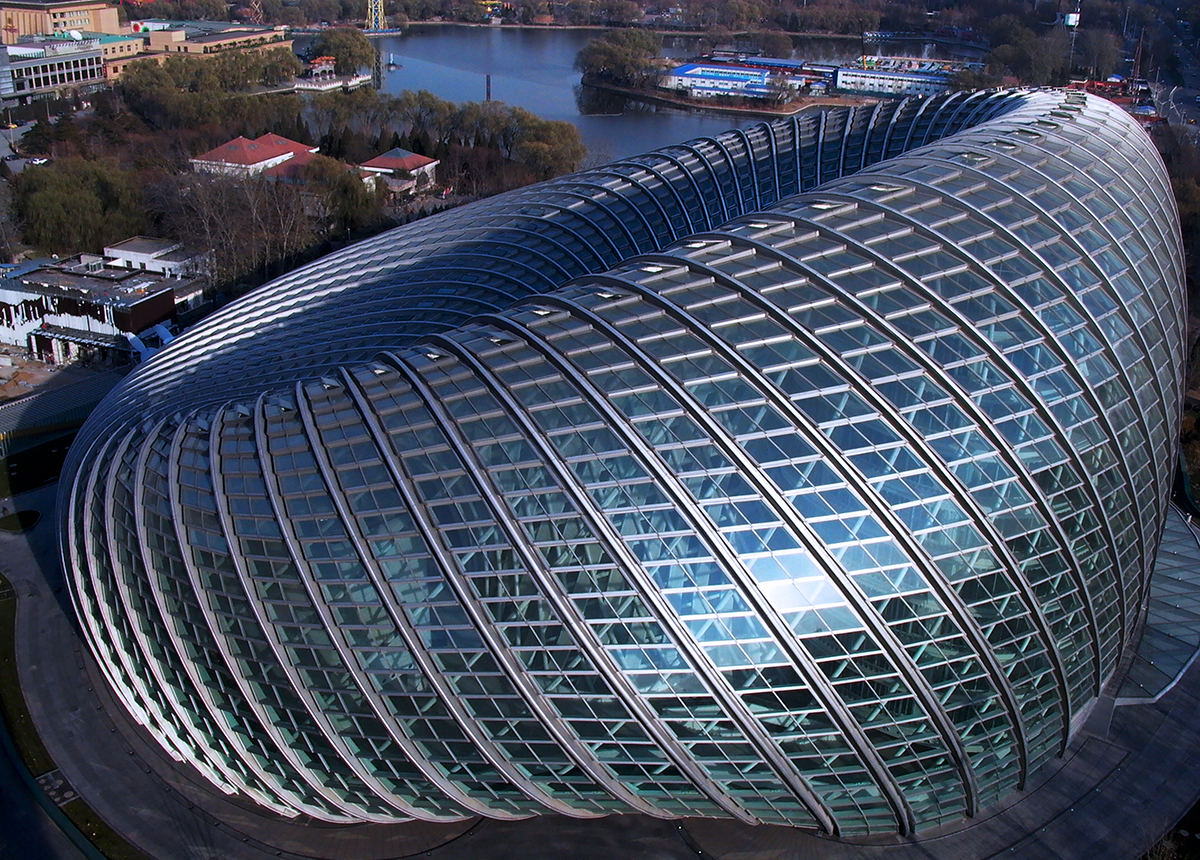 The distinctive shape of this building, while aesthetically pleasing, has the advantage of mitigating the severe street wind effects caused by high-rise buildings. The structural ribs of the building allow rainwater to drop down them into a large collection tank at the bottom. The objective is to create a transparent office, both from outside and in. Natural air ventilation is provided by the 30m high cone-shaped shared space
White Office Building - Tehran
This iconic building has a double skin façade, with the first layer being a double-glazed curtain wall. In front of each opening in the façade lower there is a flower box with automatic irrigation, that rings some green into the façade.
 
Al Bahar Towers - Abu Dhabi
The Towers key feature is clearly their 200 glass elements that open and close depending on the sunlight. Due to the hot climate, these elements help reduce heat gain caused by sunlight by 50%. The Al Bahar Towers was one of the first buildings in the Gulf to receive an LEED silver rating.